ProHEALTH PharmaChoice | 1473 Danforth Ave, Toronto, Ontario | Tel: 416-465-7776 | Fax: 416-465-6456

The test kits are provided for free by the Government of Canada. However, there is a charge of $14 per kit as a handling and training fee.
Who is eligible
You may be eligible to receive rapid tests if you:
are an incorporated business
have 10 to 199 employees
are in an industry that is currently open under provincial guidelines
If you are not eligible for the Government of Canada program,
ABBOTT PANBIO COVID-19 Ag RAPID TEST KIT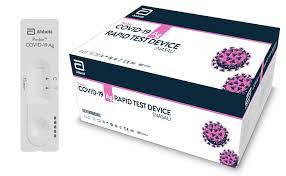 Each Box (25 Tests) : $399.99 $349.99
Note: If the results of the Abbott Panbio COVID-19 Antigen Rapid Test are positive,
they are considered preliminary positive and the tested individual should immediately self isolate and will need a regular laboratory-based PCR COVID-19 test to confirm the results within 24 hours.